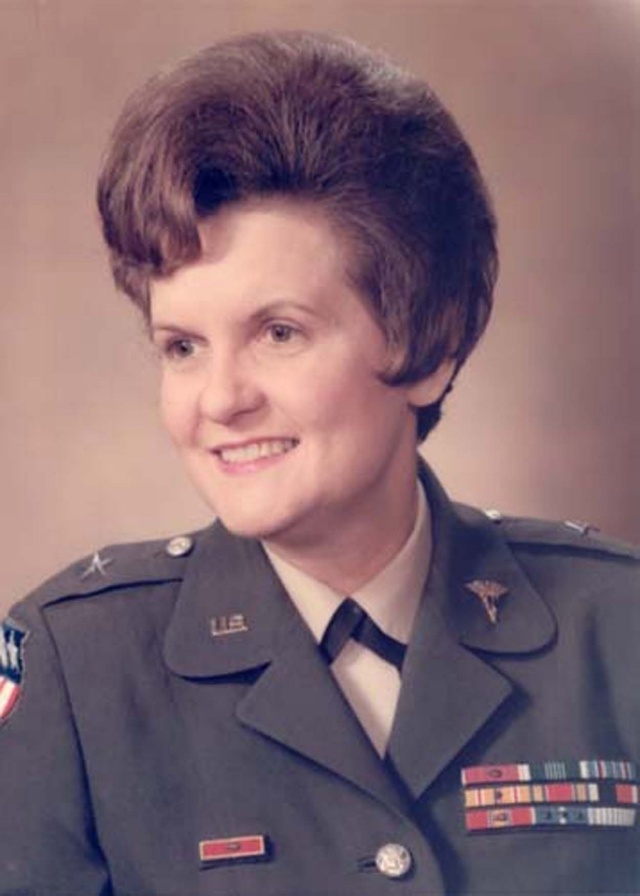 Anna Mae McCabe Hays, the first woman general officer of the U.S. Armed Forces and former Army Nurse Corps chief whose contributions improved care for patients and opportunities for women, has died. She was 97.
Born in Buffalo, N.Y., on Feb. 16, 1920 to Salvation Army officer parents, Hays long wanted to become a nurse. The family moved to Allentown, Pa., in 1932, and after high school, Hays attended Allentown General Hospital School of Nursing, graduating in 1941. She later earned a BS in Nursing from Columbia University and MS in Nursing from Catholic University of Washington, DC. 
Hays entered the Army in 1942 and rose to lead the Army Nurse Corps and achieve the highest rank possible for women of her time. She retired in 1971, as the 13th Chief of the Army Nurse Corps at the rank of brigadier general.
During her 30-year Army career, Hays cared for the ill and injured of every rank, from the most junior soldiers to the commander in chief.  She tended to patients in primitive conditions in India during World War II with the 20th General Hospital; in frigid Korea with the 4th Field Hospital; and at stateside hospitals, including Walter Reed, where Hays was head nurse of the Emergency Room. It was at Walter Reed that she was one of three private nurses assigned to care for President Dwight D. Eisenhower while he was hospitalized there.
Hays had provided front line care in two wars when she was sworn in on Sept. 1, 1967 as the 13th Chief of the Army Nurse Corps. In that role, Hays worked to increase the number of nurses in the Army, their educational opportunities and nursing standards, and recommended changes that allowed women to remain in the Army during and after pregnancy.
On June 11, 1970, Hays and Elizabeth Hoisington, Director of the Women's Army Corps, were promoted to brigadier general, the first women to wear stars. Hays' star was pinned on first in the ceremony, making her the first female general officer.  Brig. General Hays retired from the Army on Aug. 31, 1971. Her awards include the Distinguished Service Medal and the Legion of Merit with Oak Leaf Cluster.
Brig. General Hays died on Jan. 7 at Knollwood Retirement Facility in Washington, D.C.  Services were held on Friday, January 12, 2018 at Trexler Funeral Home, Inc. in Allentown, PA 18102. Burial with full military honors followed in Grandview Cemetery, Allentown, Pa. Her husband, William A. Hays, died in 1962.
Contributions: In lieu of flowers, a donation in Anna's memory may be made to Salvation Army, 144 N. 8th St, Allentown, PA 18101, Army Medical Museum (AMEDD) Foundation, Inc., P.O. Box 8294, San Antonio, TX 78208-0294, or BG Anna Mae McCabe Hays Scholarship c/o Northampton Community College Foundation, 3835 Green Pond Road, Bethlehem, PA 18020.