INDUCTEES
Click on photo to view more information on each hall of fame inductee.INDUCTEES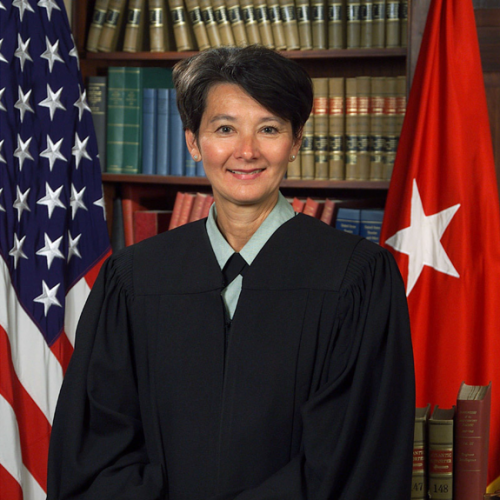 Judge Coral Wong Pietsch was appointed to the federal bench in June 2012 by President Barack Obama and serves as a Judge on the United States Court of Appeals for Veterans Claims. Judge Pietsch has a distinguished career in public service, both in the military and as a civilian. She was commissioned in the U.S. Army Judge Advocate General's Corps and served six years on active duty. Judge Pietsch continued her service in the U.S. Army Reserve and rose to the rank of Brigadier General. She became the first woman to be promoted in the rank of Brigadier General in the U.S. Army Judge Advocate General's Corps and the first woman of Asian ancestry to be promoted to Brigadier General in the Army. In her military career, Judge Pietsch participated in numerous exercises and deployments throughout the Asia Pacific Region as well as a 12-month deployment to Iraq as a Department of Defense civilian. Judge Pietsch's academic degrees include a bachelor of arts, master of arts, and a juris doctor degree. She was also a Senior Executive Fellow at the Harvard University Kennedy School of Government, is a graduate of the Defense Leadership and Management Program, and a graduate of the Army War College. Judge Pietsch is married to James H. Pietsch, who is a Professor of Law at the University of Hawaii William S. Richardson School of Law and is also a veteran.
The Honorable Coral Wong Pietsch
CW5 Wilson joined the Army as a private in 1981 as a Military Intelligence German Linguist Voice Intercept Operator. During more than 35 years of active and reserve service, she has served at all echelons from tactical to strategic. She served at U.S. Special Operations Command, MacDill Air Force Base, FL as an intelligence analyst in support of Information Operations focused on the War on Terrorism and mobilized and deployed twice to Iraq in support of a highly specialized Joint Special Operations Task Force. She served as the 5th Command Chief Warrant Officer for the United States Army Reserve and was part of the Leadership Team responsible for more than 200,000 Soldiers and Army Civilians with an annual operating budget of 8 Billion dollars. She represented and advised the Chief of the Army Reserve/ Commanding General, U.S. Army Reserve Command, served on the Army Senior Warrant Officer Council and was responsible for coordinating policy and statutory changes to support the advancement of initiatives for the total Army Warrant Officer Cohort to include Warrant Officer 2025. In 2016, she joined the Warrant Officer Career College, Fort Rucker, Alabama as the Warrant Officer Senior Service Education Course Director. Chief Wilson's military decorations and awards include the Legion of Merit, Defense Meritorious Service Medal, the Meritorious Service Medals, the Joint Service Commendation & Achievement Medals, Army Commendation Medals, the Army Achievement Medal, the Iraq Campaign Medal, the Global War on Terrorism Expeditionary & Service Medals and the Army Parachutist Badge. She is the proud parent of eight children, three of whom are combat veterans and one who is serving and currently deployed in Kuwait.
CW5 Phyllis Wilson
USAR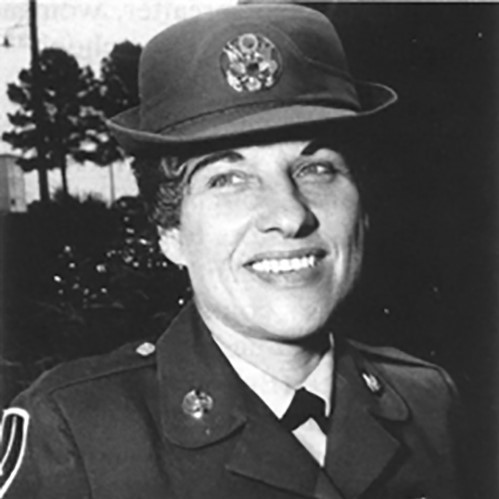 Command Sergeant Major (CSM) Betty Benson began her military career in February, 1949 at Ft. Lee, Virginia. Her many career assignments include Ft. Devens, Mass., the U. S. Naval Hospital, Portsmouth, N.H., Ft. Ord, CA, Ft. Myer, Va. and the U. S. Army Recruiting Command in Albany, N.Y. and Des Moines, Iowa. Her overseas assignments included Camp Zama, Japan, The Republic of Vietnam where she was a member of the advanced party to activate the first Women's Army Corps (WAC) Detachment in that country. She also served in Hanau, Germany and Camp Darby, Italy where she was the Post Sergeant Major. CSM Benson attended the U. S. Army first Sergeants Major Academy class at Ft. Bliss, Texas. Her last duty assignment was at Ft. McClellan, Ala. as the senior enlisted soldier for the Second Basic Training Battalion, U. S. Army MP School and Training Center, and she remained until her 30-year mandatory retirement on 30 June 1980. CSM Benson received many awards and decorations during her time in the Army including the Vietnam Service Medal with 4 Battle Stars, the Bronze Star Medal and the Legion of Merit. While on active duty and after her retirement Betty served as a member of the Women's Army Corps (WAC) Foundation Board where she was very active in helping get the WAC Museum built at Ft. McClellan.
CSM Betty Benson
USA (Ret.) - (Posthumously)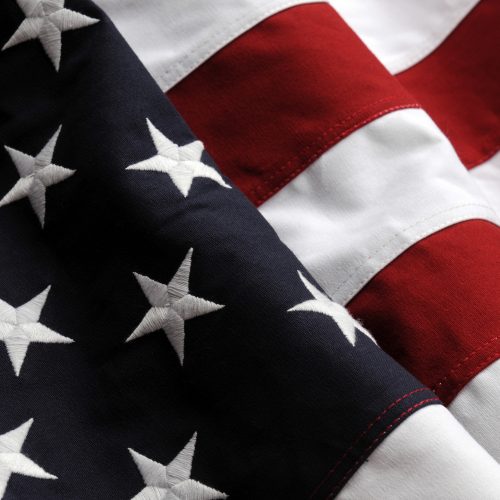 Cultural Support Teams were a pioneering program that began in 2009/2010 and were comprised of female Soldiers from the Army, Guard and Reserve, Air Force, and Navy. These female Soldiers served on the front lines supporting Rangers, SEALS, and other special operations combat forces during the Afghan war. The CSTs underwent extreme physical training as well as cultural support training focused on basic human behavior, Islamic and Afghan cultures, women and their role in Afghanistan, and tribalism. The primary task of CSTs was to engage the female population in an objective area when such contact may be deemed culturally inappropriate if performed by a male service member. CSTs directly supported activities ranging from medical civic-action programs, searches and seizures, humanitarian assistance and civil-military operations. The foundation of the Cultural Support Training Course was built upon providing an understanding of human behavior, an appreciation for Islamic and Afghan culture, and the role and history of women in Afghanistan.
Pioneer Women of Cultural Support Teams 1-7

2016 U.S. Army Olympic and Paralympic Team Members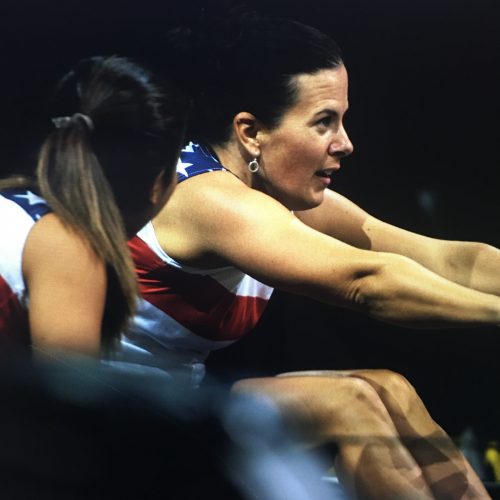 SHAWN CHESHIRE
served in the U.S. Army as a helicopter armament systems mechanic. Following her years in the service, Shawn became an EMT-Paramedic, fueling her passion for caring for others.
In 2009, while working on an ambulance, she sustained a traumatic brain injury, which resulted in total loss of vision. When Shawn was introduced to para-sports, she confronted her blindness, and her competitive spirit ignited. For the last four years, Shawn has raced with the U.S. National Paralympic Cycling Team in 16 domestic and 20 international races, including representing the USA at the Paralympic Games in Rio 2016. Shawn is a seven-time U.S. National Champion.
Shawn Chesire
US Army Veteran - Cycling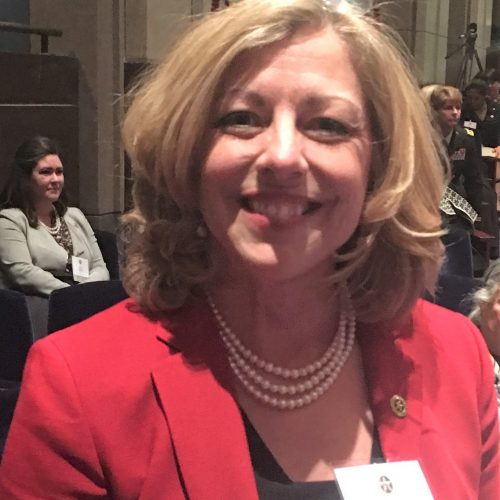 COL PATRICIA COLLINS, US Army
retired from the U.S. Army after 24 years of active duty, having spent over seven years assigned to Special Mission Units within the Joint Special Operations Command. She deployed to the Balkans, Iraq, and Afghanistan. During her service, she led from the tactical company level through the directorate level of the Joint Staff. She has experience in a multitude of areas from information technology, knowledge management, strategic leadership, and organizational change. A pioneer in her field, she was one of a small number of women to serve in Special Operations and was the first woman in the DOD to complete the Military Free Fall Jumpmaster Course.
In 2007, Patty elected to amputate her left leg below the knee to regain more mobility after suffering significant injuries from a 2006 accident while bicycling. She rehabilitated while continuing to serve in her unit of assignment, returning to running and parachuting within six months of her surgery. She remained an active duty service member for another nine years, deploying to Afghanistan and commanding a tactical communications Battalion as an amputee with no physical limitations. Upon her retirement from service, Patty was a member of the 2016 U.S. Paralympic Team, representing the U.S. in the sport of Triathlon in Rio De Janeiro, Brazil.
http://apgnews.com/community-news/news/army-womens-foundation-hall-fame-inducts-paralympic-swimmer/attachment/swim/
COL Patricia Collins
US Army (Retired) - Paratriathlon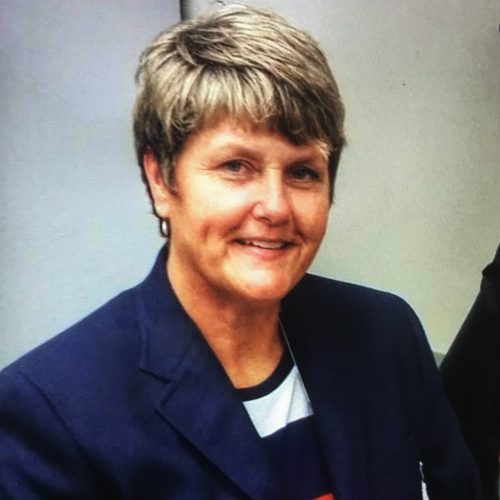 Former Private Lia Coryell shot the compound bow in the W1 women's category in Rio. She first competed on Team USA in 2015, when she was selected to the World Archery Para Championships and Parapan American Championships teams, following a solid performance in the World Archery Para Championships Team Trials.
Lia Coryell
US Army Veteran - Archery
(Photo: Veterans Affairs)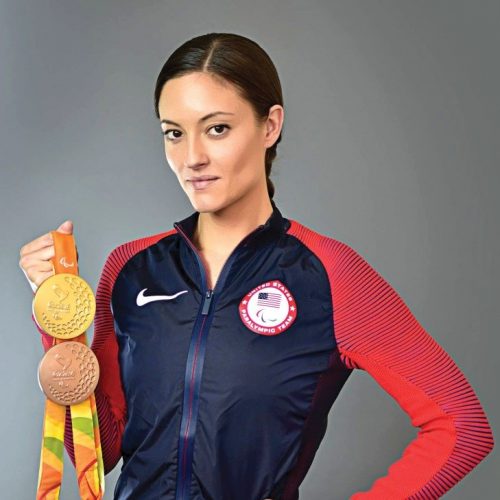 SERGEANT ELIZABETH MARKS
is a combat medic and a Paralympic swimmer in the U.S. Army World Class Athlete Program who won four gold medals at the 2016 Invictus Games at Walt Disney World ESPN Wide World of Sports Complex in Orlando, Florida. She gave one of her gold medals to Invictus Games founder Prince Harry to deliver to members of the Papworth Hospital staff that saved Marks' life after she traveled to London to compete in the inaugural Invictus Games in the fall of 2014. She sustained bilateral hip injuries in 2010 while serving in Iraq. She nearly died in London in 2014 from the respiratory infection that led to a medically induced coma that lasted almost one month. Marks, 25, a native of Prescott Valley, Arizona, who joined the Army at age 17, is now stationed at Fort Carson, Colorado.
She punched her ticket to Rio de Janeiro with stellar performances at the 2016 U.S. Paralympic Swimming Team Trials June 30 through July 2 at the Mecklenburg County Aquatic Center in Charlotte, North Carolina. She won the 100-meter breaststroke event there with a personal-best time of 1 minute, 28.54 seconds – only .01 seconds off the world record of 1:28.53 in her classification.
SSG Elizabeth Marks
US Army - Swimming
(Photo: WCAP)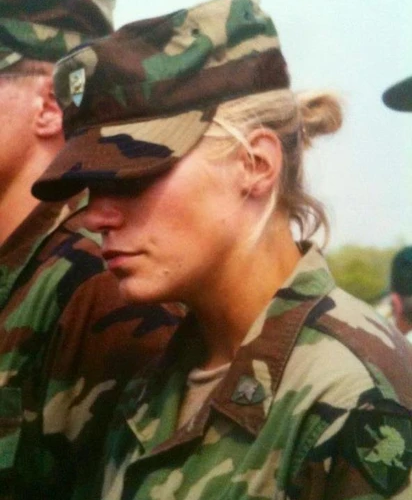 US Army Veteran Jessica Jones Meyers of Belaire, Texas, served as a guide for a visually-impaired competitor in the Paratriathlon, which made its debut in Rio as part of the 2016 Paralympics.
Competitors and their guides swam 750 meters in the ocean, biked 20 kilometers, and then ran a 5K. On Aug. 15, 2015, Meyers and para-triathlete Patricia Walsh won a triathlon in Detroit.
Jessica Jones Meyers
US Army Veteran - Paratriathlon Guide
(Photo: Personal Collection)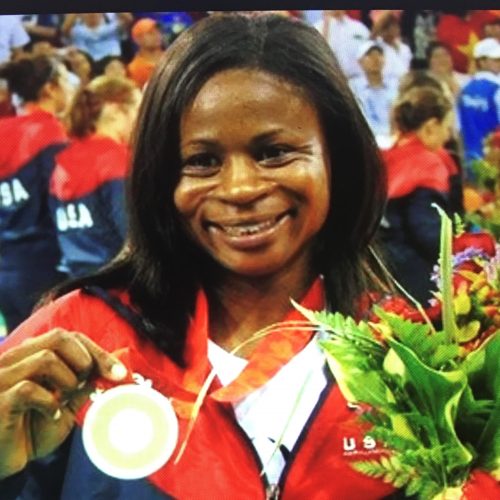 KARI MILLER was serving an active military duty, getting ready to attend officer candidate school, when a drunk driver smashed into the car she was traveling in. Kari lost both her legs in the crash; one amputated above the knee, one below. As she recovered, Miller first competed in wheelchair basketball, then discovering sitting volleyball. Miller joined the U.S. Paralympics women's sitting volleyball national team in 2006, and two years later helped the team earn a silver medal in the Beijing games followed by another silver medal in London in 2012. In Rio in 2016, the team took gold. Today, in addition to training with the sitting volleyball team, Kari works with the paralympic military program at the Walter Reed National Military Medical Center. She teaches wounded soldiers how to use sports in their recovery, works with the families of the soldiers in adapting, and coaches at the warrior games. "You can see the hope come back," Miller said. "It's easy for a doctor to say it, but for someone to actually see it in someone like me, it makes a difference."
Kari Miller
US Army Veteran - Sitting Volleyball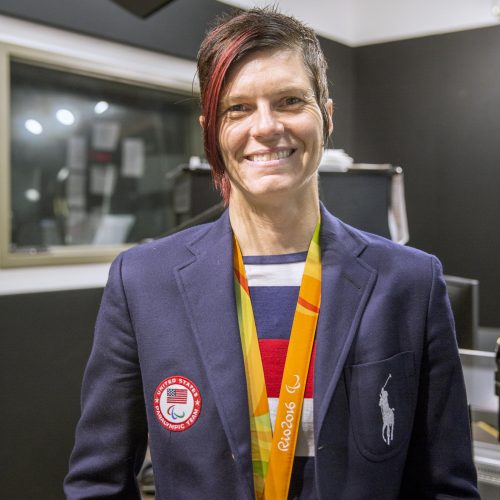 Shawn Morelli
Retired Major Shawn Morelli is an American Paralympic gold medalist in road and track cycling. Shawn Morelli is a graduate from the Marion Military Institute and was commission as an Engineer in the United States Army in 1996.
While deployed as an engineer officer in Afghanistan in 2007, Morelli was severely injured by an IED. The result was neck, nerve damage, brain trauma, and blindness in her left eye. Her first competition was at a 2010 Warrior Games. She broke the women's C4 pursuit world record at the 2016 UCI Para-Cycling Track World Championships. She is originally from Saegertown, Pennsylvania, but is a resident of Colorado Springs, Colorado.
She is working on a doctorate in public and community service, but her studies and dissertation are on hold while she's training. In 2015 she was honored by Major League Soccer team Sporting Kansas City during its Salute to Troops campaign.
MAJ Shawn Morelli
US Army, (Retired) - Cycling
(Photo: Min Xian WPSU)
Jennifer Schuble - Cycling
is a 2016 Paralympic Games participant ranking 4th (track mixed team sprint), 5th (road time trial), 7th (track time trial), and 8th (road race). In 2008, she was a Paralympic gold medalist in cycling.
Jennifer Schuble has been a talented athlete throughout her life. She was a two-time state champion in soccer and a varsity track runner in high school. While attending the United States Military Academy at West Point to become a commissioned officer, Schuble was a varsity athlete in three separate sports. One day during hand-to-hand combat class, she sustained a traumatic brain injury. She suffered an additional TBI later in a car wreck, and in 2004, she was diagnosed with multiple sclerosis. This led her to the Lakeshore Foundation, a Paralympic training site in Birmingham, where she was encouraged to get into cycling, which she did in 2007.
In 2008, she won a gold medal and set a world record in the 500m time trial at the Paralympic Games Beijing 2008. She was the first female in the world to compete in team sprint as Team USA was the only country to do it. At the London 2012 Paralympic Games, she was the first woman to medal as a part of the team sprint. She continued her success at the Paralympic Games Rio 2016.
She has two English bulldogs, Panzer and Sherman. She is originally from Saegertown, Pennsylvania, but is a resident of Colorado Springs, Colorado.
Jennifer Schuble
US Army Veteran - Cycling
(Photo: Guang Niu/Getty Images AsiaPac)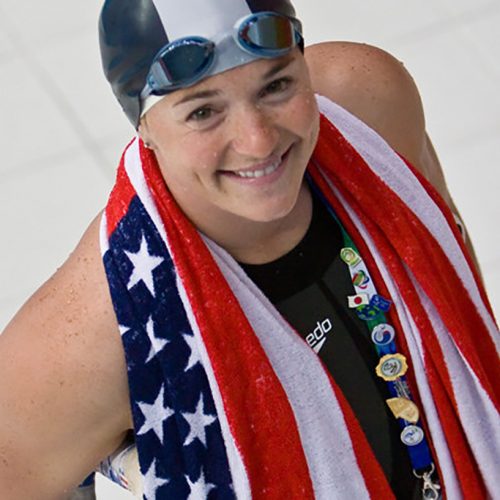 Melissa Stockwell
is a two-time American Paralympian and former U.S. Army officer. Competing in the 2008 Summer Paralympics in three Paralympic Swimming events, she returned to race in the 2016 Paralympic Games and won a Bronze medal in the inaugural Paratriathlon event on September 11, 2016.
Melissa joined the ROTC at the University of Colorado in her sophomore year and was a senior in college when the September 11, 2001 attacks occurred. In 2002, she was commissioned as a Transportation Officer and assigned to the 1st Cavalry Division at Fort Hood, Texas. She was deployed in March 2004 to Iraq.
In 2004, Army 1st Lt. (Ret.) Melissa Stockwell was leading a convoy on a mission in Iraq when an improvised explosive device (IED) destroyed her Humvee. As a result of the blast, Stockwell lost her left leg. She was the first female service member to lose a limb in the Iraq War. After a year recovering and undergoing rehabilitation at Walter Reed Army Medical Center Stockwell was medically retired in 2005. Her military decorations include the Purple Heart and Bronze Star. Since then, Stockwell has completed multiple triathlons and has become a competitive swimmer. She competed in three events in the 2008 Paralympics and is the 2010 Paratriathlon world champion. In 2016, she completed as a paratriathlete and won the Bronze medal in Rio.
In addition to her work as a paratriathlete, Stockwell works with the Wounded Warrior Project and is a certified prosthetist, fitting other amputees with artificial limbs.
1LT Melissa Stockwell
US Army (Retired) - Paratriathlon (Photo: US Veterans Affairs)