INDUCTEES
Click on photo to view more information on each hall of fame inductee.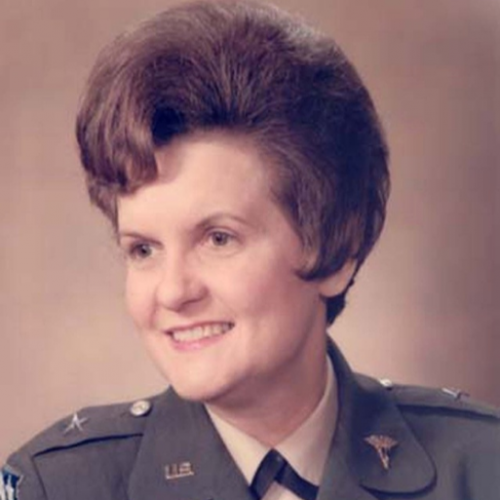 Anna Mae Hays was a true American trailblazer. Hayes was the first women to achieve the rank of general in the U.S. military. She joined the Army Nurse Corps in May 1942 and was sent to India in 1943, serving with the 20th Field Hospital. Hays served in three wars: in the jungles of India during World War II, in Korea and in Vietnam. As a one-star brigadier general, she paved a career path for other women by recommending that married officers who become pregnant should not face compulsory discharge, and that appointments to the Army Nurse Corps Reserve not depend on the age of the applicant's children. Hays passed away in Washington, D.C. on January 7, 2018, at the age of 97.
BG Anna Mae Hays
USA, (Ret.) - (Posthumously)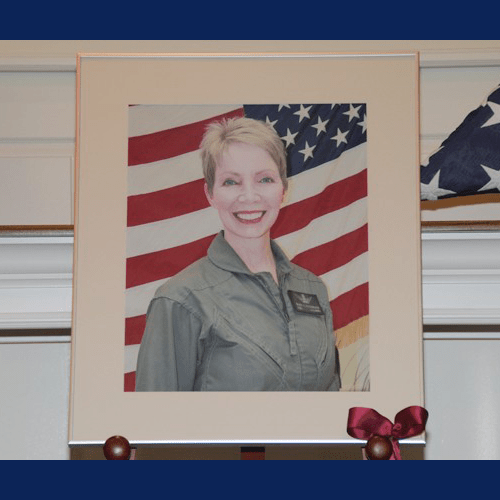 CW5 MARY CARA SMALLEY, USA Retired (Posthumously) was a great pioneer for women aviation officers. She enlisted in the Army to become a crew chief and to earn a college degree. In 1976, she became the 13th woman to graduate from flight school and went on to serve as first woman aviator in the 6th Air Cavalry Brigade at Fort Hood, Texas. There she served with aviation visionary COL Robert Molinelli, who later achieved the rank of major general, and flew UH-1 and OH-58 helicopters. Molinelli arranged for Smalley to become the first female pilot rated in the AH-1 Cobra attack helicopter. Although she completed the AH-1 transition, women were not authorized to be assigned to attack helicopter companies in the late 1970s. Smalley served in a variety of assignments to include as a medical evacuation pilot, a night vision goggle instructor pilot, an Initial Entry Rotary Wing course instructor pilot, and as a training, advising and counselling (TAC) officer with the Warrant Officer Candidate School. In 1985, while serving as a TAC, she earned a Master's degree in Aviation Management in her off duty time. Smalley was the first woman aviator promoted to CW4 in 1989 and was selected to serve as the adjutant for the prestigious United States Precision Helicopter Team in 1991. Smalley was the first female regular Army warrant officer and aviator to achieve the rank of CW5 in 1995. A master Army aviator with over 3,000 flight hours, 1,000 hours as an IP, Smalley retired in 1999 after serving her country for 24 years. Smalley has been a truly outstanding warrant officer and an inspiration to all men and women Army aviators.
CW5 Mary Cara Smalley
USA (Ret.) - (Posthumously)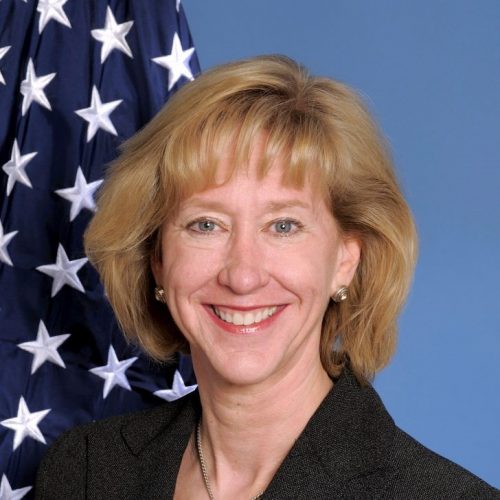 Brigadier General (Retired) Malinda Dunn is Executive Director of the American Inns of Court. Previously, BG Dunn served more than 28 years in the U.S. Army as a judge advocate, including assignments as Assistant Judge Advocate General for Military Law and Operations, Commander of the U.S. Army Legal Services Agency, and Chief Judge of the Army Court of Criminal Appeals. Her last field assignment, as Staff Judge Advocate, XVIII Airborne Corps, included tours as the Staff Judge Advocate, Combined Joint Task Force-180, Bagram Air Force Base, Afghanistan in 2003 and Staff Judge Advocate, Multi-National Corps – Iraq, Victory Base, Iraq in 2005.
During her career with the Army, BG Dunn performed some ground-breaking assignments. She was the first female Staff Judge Advocate of the 82nd Airborne Division, with which she did two tours. She was also the first female chief of personnel for the Army JAG Corps, the first female Staff Judge Advocate of the XVIII Airborne Corps, and the first woman selected as a general officer in the active duty Army Judge Advocate General's Corps.
Dunn serves as the President of the Judge Advocates' Foundation, as a member of the Randolph-Macon College Board of Trustees, and as an emeritus member of the Washington & Lee University Law School Law Council.
BG Malinda Dunn
USA (Ret.)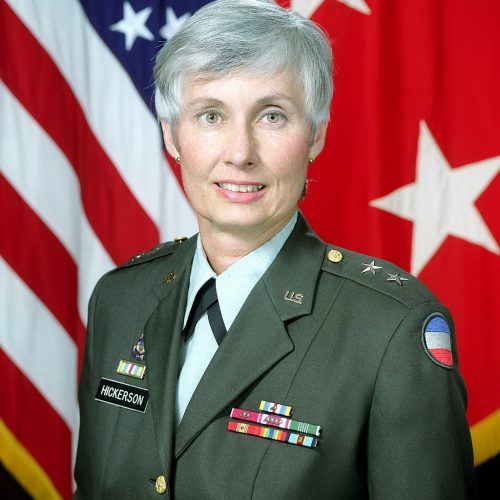 MG (R) Pat Hickerson: Her success story begins with graduation from Martinsville, Virginia High School in 1960. While there she played flute in the school's band, and that interest led her to attend Converse College in Spartanburg, South Carolina.
She obtained a Bachelor of Music Degree with Honors in Flute Performance in 1964 followed by a Master of Music Degree from Converse in 1966, seemingly on her way to a lifelong career in the music profession. However, after three years of teaching school, she diverted to join the Army instead, planning to stay five years and then seek a job in the civilian sector.
In 1968, she received a direct commission as a First Lieutenant in the Women's Army Corps (WAC) and immediately attended the WAC Officers Basic Course. This was during a time when Army women were all assigned to the Women's Army Corps (WAC) with most being given administrative, support and heath care type occupational assignments (many job fields were restricted by law and/or policy).
In 1972 when the draft was disestablished, the WAC Advance Course she was getting ready to attend was canceled, as the Army began implementation of an all-volunteer force which included expanding the role of women. With the encouragement of the Infantry commander where she was stationed, she requested and was approved to attend the Infantry Officers Advance Course at Fort Benning, Georgia starting January 1973.
Ultimately, Pat and another WAC Captain classmate would be the first and last women ever to attend this course; but, after their graduation the Commandant of the Infantry School validated to the Department of the Army the success of their training and recommended WAC Captains continue to attend. However, none did.
Her almost 33-year career with the military continued to be unique. In 1975, she was the first female officer on the staff at the U.S. Military Academy at West Point, being assigned as a Captain to the position of Admissions Officer. In that capacity she was involved in the admission of the first two classes of women to enter and later graduate from West Point.
Additionally, in 1984 she was the first woman to command a battalion in VII Corps in Germany. As a sign of progress, in 1991 she was the second woman officer assigned as the Adjutant General of the Army. Before she retired as a Major General in 2001, she had paved the way in many capacities for other women, as the Army opened up more and more occupational specialties to them, all the while assuring that those qualified were afforded an opportunity to demonstrate performance in key positions of increasing responsibility. The day she retired, she was the senior woman officer on active duty.
MG Patricia P. Hickerson
USA (Ret.)
Dr. Evelyn Hollis entered during a time of great debate over whether women should serve in combat units. In April 2004, she made history when she became the first female command sergeant major of a combat arms unit by assuming command of the 1st Battalion, 1st Air Defense Artillery. In the 1990s, numerous opportunities began opening for women to serve in combat arms units. During this time, an option became available to advance by switching her career field from Administrative to Air Defense Artillery. She has served in several leadership and staff positions including Chief, Staff and Faculty Development, Operations Sergeant Major and First Sergeant. Dr. Hollis received the Bronze Star for her service during Operations Enduring Freedom and Iraqi Freedom. She retired from the US Army after 28 years. Dr. Evelyn Hollis earned a Doctor of Management Degree in Organizational Leadership from University of Phoenix and currently, an Associate Professor at the United States Army Sergeants Major Academy.
CSM Evelyn Hollis
USA, (Ret.)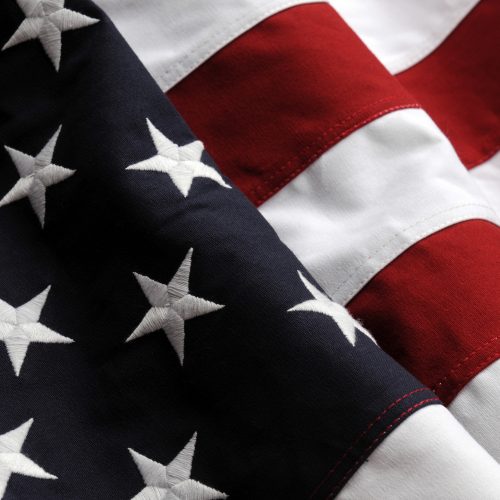 Col Jernigan began her military service with the US Navy in October 1964. After a two-year assignment with the Pentagon Navy Communications Office, she transferred to the Women's Army Corps as a first lieutenant. A tour as a WAC training company commander preceded detail to Military Intelligence, and attendance at the counterintelligence agent course. Assignment highlights include three tours in Germany and one in Vietnam. Stateside assignments include five years with the Office of the Department of the Army Inspector General and two tours with the Defense Intelligence Agency. She served as the chief of staff of the Army Intelligence Agency before retiring in 1992 with 28 years of military service.
Since retiring she's worked as a senior intelligence analyst with a small defense contractor and as the collection manager for the Smithsonian's National Museum of American History exhibit "West Point in the Making of America" (2001-4). Her volunteer work includes the Smithsonian's National Museum of American History, the Udvar-Hazy Center, and the National Mall Building of the Air and Space Museum. She has also volunteered with the Women's in Military Service for America Memorial Foundation, the Army Women's Foundation, and Veterans Affairs Volunteer Services. Memberships include: the WAC Veterans Association, the Association of Former Intelligence Officers, the DIA Alumni Association, the Army Historical Foundation, AUSA, the James Smithson Society, and the National Archives Foundation. She and her husband David live in Fairfax Station, Va.

COL Patricia Jernigan
USA, (Ret.)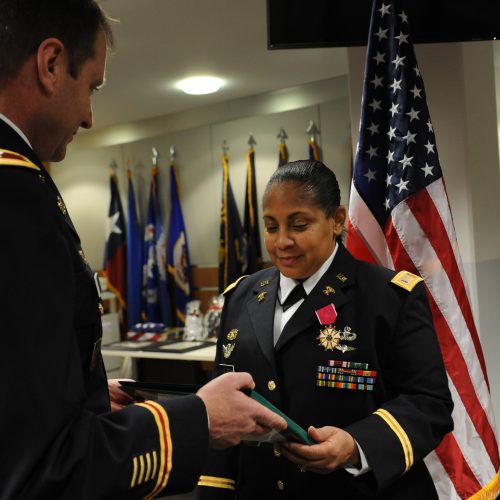 When Petrice McKey-Reese graduated from high school, she faced tougher choices than her classmates. As a single mom of a two-year-old boy, she had to decide what was best for her family. So she opted out of college to enlist in the U.S. Army.
"It was just too expensive to go to college and raise my son," said McKey-Reese. "My thought was I would make some money and then maybe go back to school."
Her decision to enlist led to a long and distinguished career with the U.S. Army where she made history by becoming the first African American women to serve as a rigger warrant officer. This month the Army Women's Foundation will recognize that distinction when it inducts McKey-Reese in the Army Women's Foundation Class of 2018 Hall of Fame.
"I'm still trying to digest everything. It's very humbling," she said. "I know it is all by the grace of God that this has happened."
A native of New Orleans, La., McKey-Reese never intended on a long career in the military when she enlisted. It was a recruiter who guided her towards logistics, citing the few officers and lack of women in that field.
"It was a very male dominated Military Occupational Specialty," she remembered. "I didn't really even think about being the first African American woman. I just knew I had to do everything just right. "
She was named the service's first African American female warrant officer just shy of her tenth year of service and went on to receive four more promotions before retiring as a Warrant Officer 4 in 2014. Her service has taken her around the world including missions and postings in Korea, Italy, Germany, Kosovo and an exhausting rigging mission to Haiti.
"I can't even remember how many plane loads of personnel and equipment were loaded and in the air headed there when the mission was called off," she said. "That was the first mission that made me realize how critical an 18 hour wheels up meant!"
A favorite mission was to Uganda where her unit taught African soldiers how to resupply officers in remote areas.
"(We were) working closely with the Ugandan soldiers to test the new methods of airdrops to resupply their troops with much needed supplies," she said. "It was soldiers helping soldiers."
It was on another tour to Korea that McKey-Reese met and married a fellow soldier. Her husband, Eddie F. Reese Sr., is a retired Master Sergeant.
McKey-Reese retired in December 2014 just two months short of 31 years. She lives in Oklahoma where she continues to work with veterans, volunteering for the Sigma Phi Psi sorority, an outreach group established by United States Armed Forces Women that helps military families.
"My intent was to serve three years. Thirty years later I retired," she laughed. "I was just always blessed."
CW4 Petrice McKey-Reese
USA (Ret.)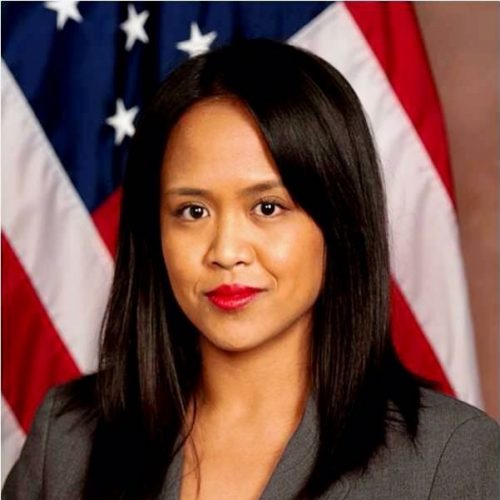 Bobbi Scroggin was one of the first women to enter the All-Army Boxing program, holding the light-welter weight title in 2002. In 2010 she helped form and coached the West Point Women's Boxing Team, and became the first woman head coach in college boxing in the nation. During her six years in active duty, she was stationed in Germany, California, and Hawaii with one tour in Afghanistan. Bobbi has an undergraduate degree from Fordham University and a graduate degree from Columbia University. Currently, she is an Associate at J.P. Morgan in New York City and an Adjunct Professor of Philosophy at St.Thomas Aquinas College in Upstate New York. She has two children, Eden (11) and Vance (10).
Barbara Scroggin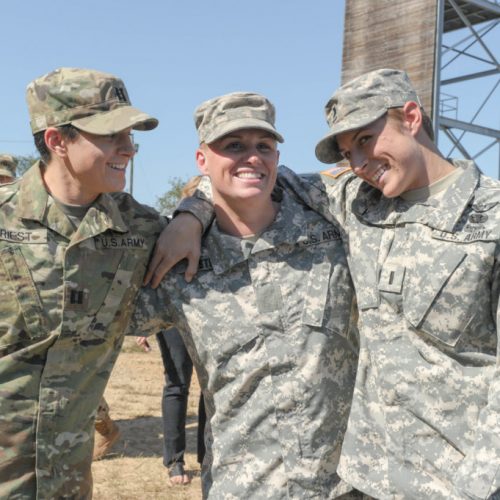 CPT KRISTEN MARIE GRIEST
is one of the two first women to ever graduate from the US Army Ranger School, which occurred on 21 August 2015. CPT Griest was ranked 34th on Fortune magazine's 2016 list of the World's Greatest Leaders. CPT Griest graduated from the United States Military Academy in 2011. She also served in Afghanistan as a military police officer. CPT Griest began Ranger training in the spring of 2015 as part of a one-time pilot program to see how women would do in Ranger School. She started the course with 19 other women, marking the first-time women have ever been allowed to participate through the course. When CPT Griest graduated from Ranger school, the premier leadership course in the US Army, women were not allowed to serve in Ranger/Infantry roles due to the Pentagon's exclusion policies on women in combat. That policy changed on 3 December 2015 when Secretary of Defense Ash Carter announced the US military would open combat positions to women with no exception. In 2016, CPT Griest became the first female infantry officer in the US Army.
CPT SHAYE HAVER is one of the two first women to have been earned a Ranger tab, from the US Army Ranger School, which occurred on 21 August 2015. CPT Haver was ranked 34th on Fortune magazine's 2016 list of the World's Greatest Leaders. CAPT Shaver graduated from the United States Military Academy in 2012. She served as an Apache Attack Helicopter pilot in an aviation brigade. A First Lieutenant at the time of Ranger School, CPT Haver was among a group of 19 women who qualified to attend the first gender-integrated Ranger School. She received a certificate of completion and was awarded and authorized to wear the Ranger Tab.
MAJ LISA JASTER, USAR is an American soldier and engineer. She is one of only three women to graduate the United States Army Ranger School. Jaster was the first female Army Reserve officer to become a Ranger School graduate. She graduated at age 37, while the average trainee age is 23. Jaster, served seven years on active duty (including tours in Iraq and Afghanistan). Prior to receiving her Ranger tab, Jaster worked as an engineer with Shell Oil in Houston and an Army Reserve individual mobilization augmentee with the U.S. Army Corps of Engineers. She initially was commissioned in the Army in 2000 after graduating from the United States Military Academy at West Point, and returned to the reserves in 2012 after a 5-year hiatus from serving. She volunteered for combat training when she discovered the Army Ranger course was being opened to women for the first time in 60 years as a U.S. government experiment to see how women would fare in the course. Jaster military awards include the Bronze Star Medal. and the Meritorious Service Medal.
The First Army Female Rangers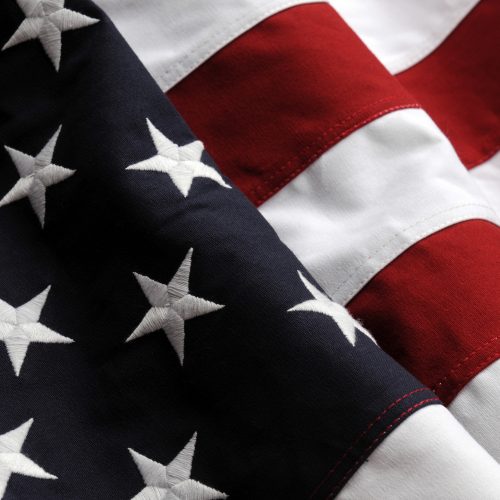 SGT Heather L. Johnsen, USA 1996
SGT Danyell E. Wilson, USA 1997
SSG Tonya D. Bell, USA 1998
SGT Ruth Hanks, USA 2017
SGT Heather L. Johnsen, USA 1996 - Formerly SGT Heather Lynn Johnsen who joined the U.S. Army Reserves in 1991 as an Administrative Specialist. She went active duty U.S. Army in 1992 and served as a Military Police Officer at Camp Humphreys, Korea, Fort Monmouth, New Jersey, Fort Myer, Virginia and Fort Campbell, Kentucky. Selected in 1994 to serve in the Old Guard at Fort Myer, VA. Served one year on the casket team before being a Sentinel in training at the Tomb of the Unknown Soldier. After nine months of intense training became the first woman to earn the coveted Tomb Guard Identification Badge in 1996. Continued to serve as a Sentinel and the Assistant Commander of the Relief for Second Relief until 1997. Went on to serve as a Squad Leader in the 101st Military Police at Fort Campbell, KY until injured in the line of duty and medically discharged in 2000. Completed her undergraduate at Marymount University in Paralegal Studies in 2004 and her Masters in Human Relations from the University of Oklahoma in 2007. She has been a military spouse for over twenty years to CW5 Anderson D. Wagner and has two children Justin Wagner (17) and Hannah Wagner (14). She continues to serve today as an acquisition professional for the federal government.
SGT Danyell E. Wilson, USA 1997 BIO COMING SOON
SSG Tonya D. Bell, USA 1998 is the CEO of Bell Health Solutions. She is responsible for improving global health outcomes by placing clinics, water wells, and education benefits in remote areas providing services to support communities in improving public health. Prior to becoming CEO of Bell Health Solutions, Tonya was a sergeant first class in the U.S. Army Transportation Corp, serving two years as the Commander of the Relief at the "Tomb of the Unknown Soldiers". Tonya has a bachelor's degree in business management from National Louis University and a master's degree in public health epidemiology from Kaplan University.
SGT Ruth Hanks, USA 2017 joined the US Army in October 2011 as 31B Military Police. Her initial training took place at Fort Leonard Wood, MO. Upon completion of training she was assigned to the 59th MP Company, 759th MP BN, Fort Carson, CO. She conducted military police functions and then in the 2013 she deployed with the 984th MP Co, Fort Carson, CO in support of Operation Enduring Freedom. She led a Protective Services Detail squad in support of Deputy Commander Support, US Forces Afghanistan for 9 months. After returning she then earned the rank of Sergeant and began competing in NCO of the Year competitions. She earned the title of III Corps NCO of the Year in 2014. In 2015 she PCS'd to the 289th MP CO, Fort Myer, VA where she earned the Sergeant Audie Murphy Award. In June 2015 she volunteered for training at the Tomb of the Unknown Solider, she successfully completed training in May 2016, and she became the 643rd Sentinel, and the 4th ever female Sentinel. She served at the Tomb as a Relief Commander until January 2018. She is now in the Alabama National Guard, pursuing her Master's in Conservation Biology, and working towards becoming a Federal Wildlife Officer.
Female Sentinels at Tomb of Unknowns