CLASS OF 2021
Click on photo to view more information on each hall of fame inductee.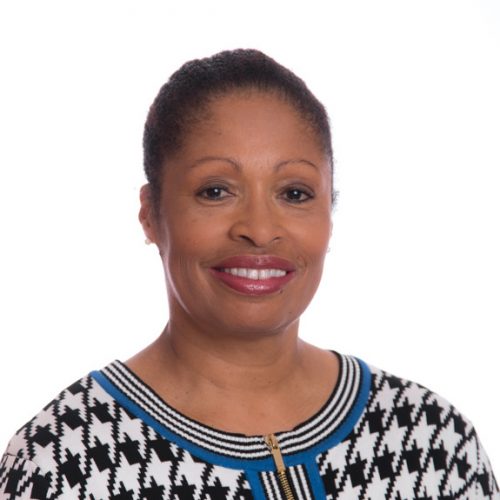 Major General Marcia M. Anderson received her commission in 1979 from the Reserve Officer Training Corps at Creighton University, Omaha Nebraska, and retired in 2016. During her career, she had assignments as a Company Commander and Battalion S-3 in Basic Combat Training units and as Total Army School System Battalion Commander (Personnel Services). Major General Anderson also served in a variety of Division staff positions and commanded at the Brigade and General Officer level.
In 2011, she became the first African American woman promoted to the rank of Major General in any component of the Army. Major General Anderson served as the Deputy Commanding General, Army Human Resources Command, Fort Knox, Kentucky, 2010-2011. Her final assignment was as the Deputy Chief, United States Army Reserve, serving at the Pentagon in Washington, D.C. from 2011-2014.
Her military awards and decorations include the Distinguished Service Medal, the Legion of Merit, the Meritorious Service Medal, the Army Commendation Medal, Army Achievement Medal, Parachutist Badge, and the Physical Fitness Badge.
As a citizen-soldier, Anderson was employed for 28 years by the United States Courts, where she served as the Clerk of the Bankruptcy Court, Western District of Wisconsin, located in Madison, Wisconsin, until her retirement in late 2019.
(MG) Marcia M. Anderson
USA (Ret.)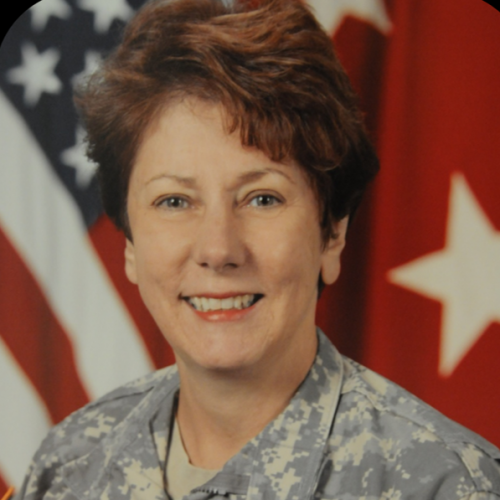 Major General Mari K. Eder retired from the U.S. Army in May 2013 with 36 years of dedicated service to the nation. A Pennsylvania native, Maj. Gen. Eder grew up in Stoneboro, PA, graduating from Lakeview High School. She earned a bachelor's degree (Cum Laude, with honors) and a master's degree in English from Edinboro University, and a Master of Strategic Studies from the U.S. Army War College in Carlisle, PA. She is also a graduate of the advanced program in mass communications at the University of South Carolina and completed the Training with Industry Fellowship Program with Fleishman-Hilliard Public Relations in Washington, DC. Additionally, she is a graduate of senior executive and leadership programs at the University of North Carolina's Kenan Flagler School of Business, the National Defense University, and the Kennedy School of Government at Harvard University. She received a Doctor of Humane Letters from the Edinboro University of Pennsylvania in 2014.
Maj. Gen Eder commanded at every level in the Army, from platoon through division level. She was selected for progressively challenging positions culminating in several executive leadership assignments at the highest levels. Her last assignment was as the first Commanding General of the U.S. Army Reserve Joint and Special Troops Support Command, headquartered in Salt Lake City, UT. She previously served as the first full-time Deputy Chief of the Army Reserve and developed the Reserve communications enterprise, including recruiting and marketing communications and legislative liaison, led the nationwide Army Reserve Ambassador Program, and guided public affairs, community relations, and family support programs.
Prior to this assignment, she served on the Department of the Army Staff at the Pentagon as the first full-time Deputy Chief of Public Affairs, during the period of initial operations in Afghanistan and Iraq. She has had additional joint experience, serving with the U.S. European Command in Stuttgart, Germany, where she was assigned as the Deputy Director of Public Affairs. There she directed theater media relations during Kosovo and at the inception of Operation Enduring Freedom. She served as Chief of Staff for the Reserve Forces Policy Board in OSD (Reserve Affairs) from 2002-2004.
As a civilian executive, she served as the Director of Public Affairs at the George C. Marshall European Center for Security Studies in Garmisch-Partenkirchen, Germany. There she built the Center's strategic plan for marketing communications and taught the role of a free press in democratic societies to government officials from over 36 nations.
In addition to serving as an adjunct professor and lecturer at the George C. Marshall European Center for Security Studies, the NATO School, Sweden's International Security Command, and at Norway's military Command and Staff Centre. She has led and spoken at communications conferences in Croatia, Hungary, Georgia, Bulgaria, Italy, and Jordan. Today, Maj. Gen. Eder consults, advises, and speaks frequently at colleges and universities on communications, counter-terror narratives, professional ethics, and leadership topics, including: Edinboro University of Pennsylvania, St. Edwards University, Syracuse University, Lander University, The University of Oklahoma, George Mason University, Georgia State University Byrdine F. Lewis School of Nursing and Health Professions, the U.S. Army Command and General Staff College, The University of North Carolina at Chapel Hill, North Carolina State University Poole School of Management, the U.S. Naval War College, and others. In 2006 she was selected as the 28th Annual Vernon C. Schranz Distinguished Lectureship Recipient (Public Relations) at Ball State University in Muncie, IN. She was the closing keynote speaker at the Womens Insights in Negotiations (WIN) global Summit in 2018 and recipient of their 2018 Trailblazer Award.
Maj. Gen. Eder has an established record of scholarship, research, and publishing. Her book, Leading the Narrative: The Case for Strategic Communication, is used in a number of university communications courses. She is the author of numerous case studies and articles on military ethics, leadership, and strategic communications as well as two books of children's stories. Her current series of essays titled "The Information Apocalypse" is published online by the U.S. Army War College. An inspirational book on leadership will be released in May 2021.
She continues to serve as Board Secretary and trustee with the U.S. Army War College Foundation where she recently authored the foreword to the College's new Communications Campaign Planning Primer. General Eder recently served as a senior advisor and Director with the Foundation for Self-Government, and as a communications expert for the Department of Defense Office of the Inspector General. She has also consulted with other organizations on issues ranging from Artificial Intelligence and 5G to veterans' health.
Maj. Gen. Eder is active in animal rescue, working with several groups to support, rescue, foster, and rehome dogs. She also works with high school students in young author groups.
She is the recipient of numerous civilian and military awards and recognitions. Her military awards include the Distinguished Service Medal, the Legion of Merit (with Oak Leaf Cluster), and the Meritorious Service Medal (with 5 Oak Leaf Clusters.) Maj. Gen. Eder was named an Honorary Member of the U.S. Army Judge Advocate General Corps in 2011, an honor only accorded to two other individuals previously. In 2017 she was inducted into the Army Public Affairs Hall of Fame and became the fifth career professional to receive the Joe Galloway Lifetime Achievement Award for excellence in strategic communication. She was inducted into her high school Hall of Fame in 2018.
General Eder holds the Vatican award of the Knight, Grand Cross of the Order of Saint Gregory the Great, granted by Pope Benedict XVI. There are about 200 people in the world who hold this knighthood.
MG Mari K. Eder
USA (Ret.)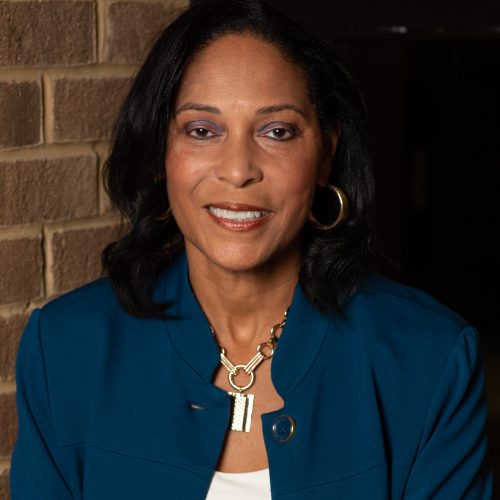 With over 30 years of leadership, consulting, and systems integration experience, having served in various senior executive level positions, Dr. Linda Singh offers a blend of public and private sector experience that spans health, defense, state, and local government.
As the founder and Chief Executive Officer of Kaleidoscope Affect, LLC providing leadership and management consulting as well as strategic advisory services for a variety of public and private sector clients. Previously, Dr. Singh was the Interim Executive Director and CEO of TEDCO focused on investing and helping to grow early-stage technology and life sciences companies to fuel economic development and growth. Prior to that, she served as a Major General in the Maryland National Guard, dedicating more than 38 years of service. As the Adjutant General and a Cabinet Secretary, she was responsible for the Maryland Military Department. As part of her military role, she worked with senior-level officials at ministerial and ambassador levels in Estonia and Bosnia developing country strategies under the Department of Defense State Partnership Program. Dr. Singh retired from Accenture in 2016, she was a Managing Director in the Health and Public Service North America Operating Unit where she served for 21 years.
Dr. Singh serves on the board of directors of Howard Bancorp, Easterseals DC MD VA, and Headstrong, on the advisory board of Vital Guidance and Cybersecurity Forum Initiative as well as numerous other committees. Dr. Singh personally mentors, coaches, and speaks on leadership, diversity, adversity, career transition, and issues that plague women and veterans in the workplace. She holds a bachelor's degree in business, a Master of Business Administration, a Master of Strategic Studies, and a Ph.D. in Industrial and Organizational Psychology. She is the author of "Moments of Choice: My Path to Leadership" and the recently released "What's in Your Box? Designing the Life You Want".
Dr. Singh is a certified Project Management Professional (PMP), Professional Certified Coach (PCC), Gallup Strengths Coach, and John Maxwell certified trainer and speaker. She has received numerous awards, among them are the 2013 Diversity MBA Top 100 under 50 Diverse Emerging Leaders, The Network Journal 25 Influential Black Women in Business Award for 2014, and recipient of the Ellis Island Medal of Honor for 2015. She was also inducted into the Maryland Women's Hall of Fame in March 2015. She was also featured on the Today Show for her history-making leadership team and named as one of InStyle's Badass 50 in July 2019.
MG Linda L. Singh
Ph.D., USA (Ret.)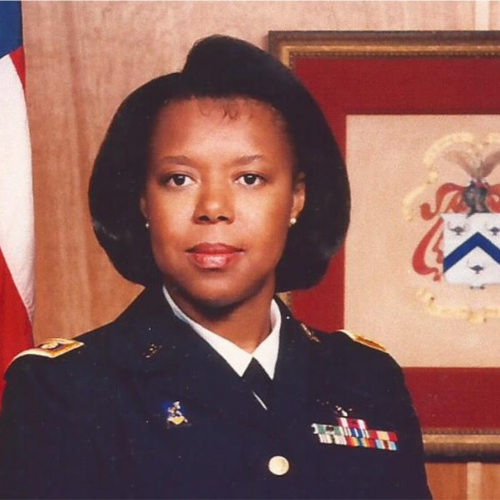 Christine B. Knighton ("Nickey") currently serves as Senior Consultant and Executive Leadership Coach with Strategy Consulting Team (SCT) in Northern Virginia. Colonel Knighton is a native of Benevolence and Cuthbert, Georgia. Upon graduation from Randolph County Comprehensive High School, she attended Tuskegee (Institute) University in Alabama on an ROTC Scholarship and graduated in 1979 as a Distinguished Military Graduate with a Regular Army Appointment. She was initially commissioned a Second Lieutenant in the Quartermaster Corps.
Upon completion of the Quartermaster Officer Basic Course, Colonel Knighton attended flight training at Fort Rucker, Alabama graduating in August 1980. She was branch transferred to the Transportation Officer's Corps and completed the Aviation Maintenance Officers' Course and the UH-1H (Huey) Helicopter Test Pilot Course at Fort Eustis, Virginia in 1981.
Upon completion of initial Aviation Training and Test Pilot Training, Colonel Knighton was subsequently assigned to V Corps in then West Germany where she served a four-year tour in Hanau, Frankfurt, and Wiesbaden. Her assignments included Flight Section Leader – 205th Transportation Battalion (AVIM), Flight Section Leader, Pilot-In-Command, Maintenance Test Pilot and Aviation Maintenance (AVUM) Platoon Leader – 62d Aviation Company (Corps GS), and S-4 (Logistics Officer) of the 11th Aviation Battalion (Combat).
Assigned to Fort Hood, Texas in 1985, Colonel Knighton served in the 1st Cavalry Division's Aviation Intermediate Maintenance Company (AVIM) as Armament and Technical Supply Platoon Leader, Production Control Officer, and Company Executive Officer. In 1988, she assumed command of Delta Company, 227th Aviation Regiment – 1st Cavalry's Combat Aviation Company (General Support).
Colonel Knighton served a tour of duty at Camp Stanley in Uijeongbu, South Korea - 2d Infantry Division as the Aviation Brigade S-4 Officer. Assigned to Fort Leavenworth, Kansas in 1990, Colonel Knighton serves as the Aviation Logistician of the Aviation Requirements for the Combat Structure for the Army (ARCSA-V) Study Group prior to attending Command and General Staff College. She deployed to Operation Desert Storm with the Center for Army Lessons Learned (CALL) to assess Aviation Units positioned in Saudi, Kuwait, and Iraq.
Assigned to Fort Campbell, Kentucky in July 1992 upon the completion of Staff College, Colonel Knighton served as the S-3 (Operations Officer), 8th Aviation Battalion (AVIM), 101st Airborne Division. In June 1993, she assumed command of Hotel Company, 159th Aviation Regiment (AVIM). Under her command, the company was deployed to Mogadishu, Somalia from August 1993 thru January 1994 in support of combat operations - United Nations Operation Continue Hope.
Colonel Knighton spent two years at the Army Personnel Command as the assignments officer for Aviation Majors and Lieutenant Colonels. Upon completion of this assignment, Colonel Knighton assumed command of 2d Battalion, 227th Aviation Regiment, a Blackhawk Helicopter Battalion in 1st Cavalry Division, Fort Hood, Texas. On 3 November 1996, then Lieutenant Colonel Knighton became the first woman in the history of the United States Army to command a Tactical Combat Arms Battalion. She deployed the battalion to Tulza, Bosnia-Herzegovina to conduct aviation operations in support of the 1st Armor Division and 1st Cavalry Division, and NATO. She relinquished command in November 1998 and in March 1999, 2d Battalion, 227th Aviation was selected as the Army's Aviation Unit of the Year.
Colonel Knighton's military education includes the Aviation Officer Advanced Course, UH-60 Blackhawk Helicopter Qualification Course, Combined Arms Staff, and Services School, Command and General Staff College, Army and Aviation Pre-Command Courses, and National War College. She holds a Master of Science Degree in National Security and Strategy from the National Defense University in Washington, D.C. She earned a certification as a Leadership Coach and a Master's in Leadership from Georgetown University.
When graduating from flight school in 1980, she became only the second Black woman in the United States to complete Aviation Training within the Department of Defense and the first woman from the State of Georgia. When she retired from active duty in 2008, Colonel Knighton was the Senior Black Female Aviator on Active Duty within the Department of Defense. She is one of the first women to serve as Combat Arms Officers in the United States Army and was the first woman to command a Tactical Combat Arms Battalion.
Her awards and decorations include the award of the Defense Superior Service Medal, the Legion of Merit, seven Meritorious Service Medals, three Army Commendation Medals, an Army Achievement Medal, the National Defense Service Medal, Armed Forces Expeditionary Medal, Southwest Asia Service Medal, Armed Forces Service Medal, Humanitarian Service Medal, Army Service Ribbon, two awards of Overseas Service Ribbon, the NATO Medal, Kuwait Liberation Medal, the Army's Senior Aviator Badge and the Office of the Secretary of Defense Staff Badge. Colonel Knighton also holds the Order of Saint Michael for outstanding contributions to Army Aviation. She was awarded the General Benjamin O. Davis Leadership Award by the United States Air Force and the Bessie Coleman Award for outstanding contributions to Aviation by the Federal Aviation Administration's Black Air Traffic Controller Association.
Colonel Knighton was nationally recognized by Glamour Magazine in 1989 as one of the Top 10 Outstanding Working Women in the United States. She appeared on the cover of USA Today and numerous other national publications and television talk shows as a result of this selection. She is the founder of a public service non-profit organization active in Southwest Georgia. Since 1990, S.H.A.P.E. – Self-Esteem, Harmony, Awareness, Pride, and Education, has provided undergraduate educational opportunities to graduating high school seniors. Colonel Knighton is an active member of Delta Sigma Theta Sorority, Inc and for over 40 years has pledged her commitment to public service on a national and international level. She is Past Vice President of the Bessie Coleman Foundation, an organization committed to sponsoring and promoting careers in Aviation in the military, private and commercial sectors. Colonel Knighton is also a member of the United States Army Black Aviation Association and the Tuskegee Airmen Association.
Colonel Knighton is married to Colonel (Retired) Bennie Williams, Jr, of Orangeburg, SC, an Army Infantry Officer. They have a son, Tre', a Second Lieutenant currently serving in the 82nd Airborne Division, Fort Bragg, NC. Colonel Knighton's most cherished and memorable life experiences have been the privilege and honor to serve our nation with the best that our nation has to offer – America's Sons and Daughters.
COL Christine B. "Nickey" Knighton
USA (Ret.)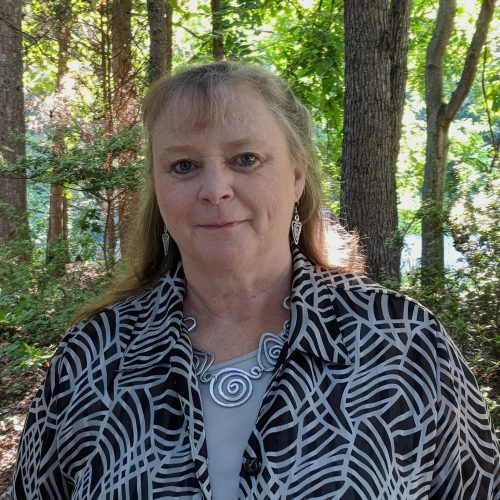 Francoise Bonnell, Ph.D., is Director of Museums, Education, and Interpretation for the Fort Monroe Authority (FMA) in the Hampton Roads area. She is the former director of the U.S. Army Women's Museum at Fort Lee, Virginia. She is an author and a recognized authority in women's military history. She retired from US Army Reserves as a Lieutenant Colonel. She co-authored "Capturing the Women's Army Corps: The World War II Photographs of Captain Charlotte T. McGraw". She cowrote a chapter in Women Vietnam Veterans: Our Untold Stories. She contributed to chapter 15 of the book "Saluting Our Grandmas Women of World War II". She is an advocate for ensuring the contributions of Army women are recorded and told.
Dr. Bonnell is an expert on the history of women in the military. When asked about the contributions women made to wars from the American Revolution to World War II, Dr. Bonnell remarked "I think the service of women to the country, in the military, has been extraordinary" she said, "And it does go back all the way to the American Revolution. It's been somewhat informal in the early years, maybe the first hundred, hundred and fifty years of American history."
Contributions made by women in the military are equally as important when they were finally given the opportunity to get in uniform. Despite that, over time, their contributions have differed, women have always brought something to the conflict. Dr. Bonnell believes – and can support through her knowledge – that without women in the military, particular missions would not have been as successful as they were. When it comes to women's history, Dr. Bonnell knows people tend to look at things in terms of numbers. But, to Dr. Bonnell, it's not about the numbers but the contributions, and in some cases the influence of an individual.
The military changes based on need, and often these changes reflect the progress of the institution. Dr. Bonnell said, "You have a society perhaps that accepts it, it's okay, but most importantly, you actually have women who want it, and again, it goes back to women given the opportunity to serve, they will." Above all, the historian believes that the more is demanded of women the better; they'll always step up to meet those demands.
Under her leadership, The U.S. Army Women's Museum received the Army Historical Foundation 2016 Museum Excellence Award and received an award from the Center for Interactive Learning and Collaboration.
She has extended the scope of the museum's story beyond the four walls of the facility, encompassing the entirety of Army history. She understood the importance to extend the reach of the Museum quite literally around the world. Her vision and guidance led the education staff to create programs that could achieve this goal. The team began to leverage the power of social media, distance learning, and special programming.
The USAWM Facebook page serves as an educational platform with carefully planned posts that showcase the history located in the museum as well as current events. Entire Army organizations and units far outside the physical reach of the museum have been able to interact with Army women's history through social media. Recently the museum launched a Live Broadcast Studio with Chroma key technology to allow delivery of programming to students and adults around the globe, especially seniors. The implications for providing Soldier training via this technology are boundless.
Dr. (LtCol, Ret) Francoise Bonnell has dedicated her life to ensure the contributions of Army Women is recorded, so that future generations know the service and sacrifice women have made in service to the nations, from across the generations
Dr. Françoise B. Bonnell, LTC
USA (Ret.)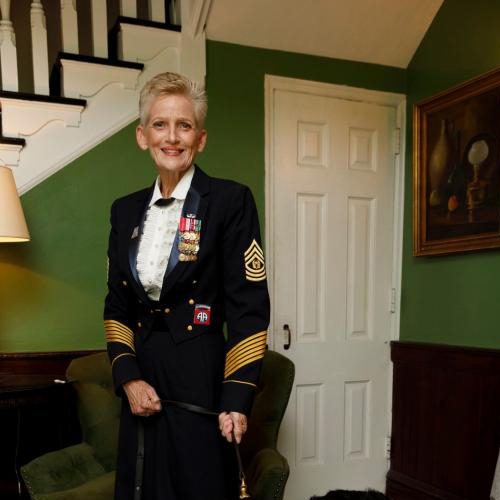 A Texas native Command Sergeant Major Gretchen Evans, a highly decorated female veteran began her journey four decades ago when she entered the United States Army at 19 years old. Shortly after completing Basic Training at Fort Leonard Wood (Missouri), CSM Evans became an Intelligence Analyst for Commander in Chief (Europe), before studying German and Italian at the Defense Language Institute (California) as a Counterintelligence Agent. Following her graduation from language school, CSM Evans attended Basic Airborne training at Fort Benning (Georgia), where training requirements included Bill Streets Driving School, sniper training, demolition training, and covert operations training. She held leadership roles in multiple combat engagements and had several deployments as part of a black operations unit, Intelligence Support Activity, and the "Green Army."
Throughout her 27 years in the service, CSM Evans worked her way up to Command Sergeant Major – the highest rank an enlisted soldier can achieve. In this role, she was responsible for the security and personnel on all bases and forwarding operation bases in Afghanistan, and oversaw more than 30,000 ground troops. She earned numerous medals and awards, including the Bronze Star, the Presidential Unit Citation Medal, and Global War on Terrorism ribbons, six Meritorious Service Medals, and numerous other awards.
CSM Evans' world changed in a millisecond when she was severely wounded by incoming fire while serving in Afghanistan. The rocket blast caused her debilitating injuries, including a traumatic brain injury, internal injuries, and the loss of all hearing.
After her combat injury, recent PTSD diagnosis, and subsequent retirement from service, her transition from military life to civilian life was difficult. Her heart was broken and she felt hopeless, not only due to the injuries she sustained but also due to the sudden loss — of family, a team, the fellowship, and the mission she had found and loved, the military experience. She found her way into No Barriers Warriors, a life-changing organization that serves veterans with disabilities from all branches of the military and all eras of service. The healing environment restored her confidence, gave her hope and a renewed passion for living life to the fullest. She also received her trained hearing service dog from America's VETDOGS which enhanced her recovery and increased her independence.
Today, CSM Evans is determined to pay it forward by focusing her efforts on improving the lives of her fellow veterans by actively serving as a mentor, coach, and community activist. Gretchen is an ambassador for nonprofit No Barriers USA, America's VETDSOG, and the Travis Manion Foundation. She continues to serve as a board member of several veteran-focused organizations and is a lifetime member of the Disabled American Veterans, Iraq and Afghanistan Veterans of America, Wounded Warrior Project, and Veterans of Foreign Wars. She and her team, Team UNBROKEN competed in the World's Toughest Race in 2019, the first completely disabled team to compete in the Eco-Challenge Adventure Race.
She is also the author of a book, "Leading from the Front," published in 2018. CSM Evans currently lives in Brunswick, Maine with her husband Navy CAPTAIN (RET) Robert D. Evans and their two service dogs Aura and Rusty.
CSM Gretchen Evans
USA (Ret.)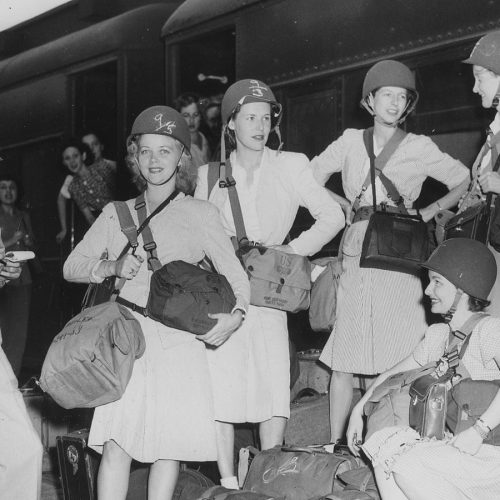 More than 13,000 soldiers and civilians served in the Office of Strategic Services (OSS) during World War II, and of those people 4500 were women. The OSS was set up in 1942 as a new strategic intelligence organization, operating under the auspices of the Joint Chiefs of Staff. This new agency was the predecessor to the Central Intelligence Agency, the U.S. Special Operations Command, U.S. Special Forces, and the U.S. Department of State's Bureau of Intelligence and Research.
It was commanded and led by Major General "Wild Bill" Donovan, a Medal of Honor recipient from World War I. In recruiting special operators, he said he was looking for "PhDs who could win a bar fight." He got them too. Four thousand five hundred OSS women worked in every part of the operation, as spies, saboteurs, resistance fighters, leaders, propaganda experts, cryptographers, cartographers, analysts, and experts in recruiting, in communications, preparing news and information for friendly forces and disinformation for enemy forces. There were also legions of administrative support workers, clerks, drivers, the logistics managers. Together, they fought the undercover war. Some risked their lives, others their livelihoods, but they made it all work.
The women of the OSS have heretofore not been recognized. Since they all swore secrecy oaths and their personnel records were sealed until 2008, most never even received recognition as war veterans. They are passing from this earth now in great numbers, these women of the Greatest Generation. Only a few remain. They were young then and bold, stepping out of line to risk their safety, sometimes their futures, and even their lives to contribute to America's fight against her enemies. Special Operator Virginia Hall received no recognition in her lifetime, beyond the quiet pinning of the Distinguished Service Cross in the office of MG Donovan, OSS Director. She was the first woman to receive this award, for her bravery under fire. Major Stephanie Czech Radar finally received the Legion of Merit she was due, but only at her funeral at Arlington. Betty McIntosh was included with others in a group award when she left China but was never personally recognized. The same was true of Marion Frieswyk and thousands of others who served their country - whether undercover or in technical services.
The US Army Women's Foundation is proud to recognize the service of the indomitable women of the OSS and induct them into the 2021 Hall of Fame.
The Women Who Served in the Office of Strategic Services
SPECIAL RECOGNITION OF CHAMPION AWARDS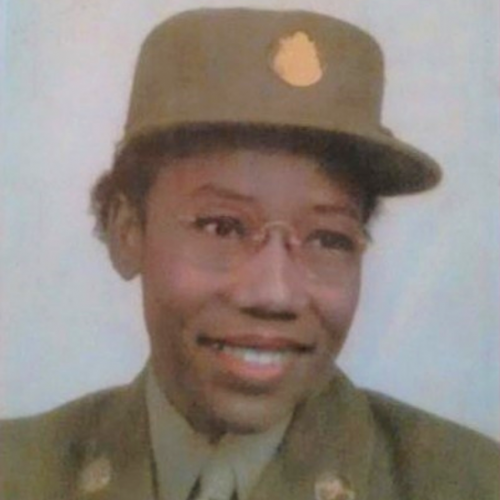 PFC Gladys Crawford was the first African American woman to volunteer her service in the state of Florida under President Roosevelt during World War II. She went to basic training at Fort Devens, MA Training Center, and graduated from there as a cook. Private Crawford was then assigned in the United States Army Air Force, also known as AAF 60 WAAC Headquarters Company in Walla Walla Washington led by CPT Elizabeth C Hampton, whom she never forgot and held in high regard. From there, after Private Crawford was assigned to the 860 Women's Army Auxiliary Corps Post Headquarters Company in Miami, FL, and also serving time in Wendover, Utah, she remembered wearing a patch that meant Savior of America. PFC Crawford's last school was the Bakers and Cook school in Sioux City, IA. She remembered President Roosevelt said he wanted the women to volunteer in the military to take over some of the jobs the men were doing so the men could be released to train to fight America's War in order to protect the lives of our country. Her last assignment was in Fort Dix, NJ and she was then returned back to West Palm Beach Florida, where she lived until her death. Ms. Crawford was extremely proud to say when she joined the military, she was part of the Women's Army Auxiliary Corps (WAAC) which had later become the Women's Army Corps (WAC), which meant they were no longer an auxiliary, but they were considered part of the corps. PFC Gladys Crawford's span in the military was from March 1943 to November 1945.
Ms. Crawford passed away in July 2020 at the age of 104 and was given the key to the city of West Palm Beach on her 101st birthday. She did not have any children. She had a host of nieces and nephews that supported her. She never married but ended up raising her sister's four kids when she passed. Right up until she died, Ms. Crawford still enjoyed cooking during family gatherings and feeding her family. She still maneuvered around pretty well and loved being independent. While caring for her mother, she was also a chambermaid to a family she cared for more than 50 years ago and kept in touch with them her whole life; Ms. Crawford was a part of their family. Ms. Crawford enjoyed sitting outside and reading her book during the day. Ms. Crawford's mother also lived a very long life to the age of 101. Ms. Crawford was a very selfless individual and never wanted anything publicized regarding herself so this is something out of the norm but is an absolute pleasure. Ms. Crawford spoke with passion, honor, and dignity to have served our country during such a crucial time period. Her nephew (R) SFC Shawn Gibson is accepting the award on behalf of Ms. Gibson; she viewed her nephew as her son and respected and adored him dearly.
Ms. Crawford is being presented with the American Campaign Medal, the WWII Victory Medal, and the Women's Army Corps Service Medal.
PFC Gladys Crawford
WAC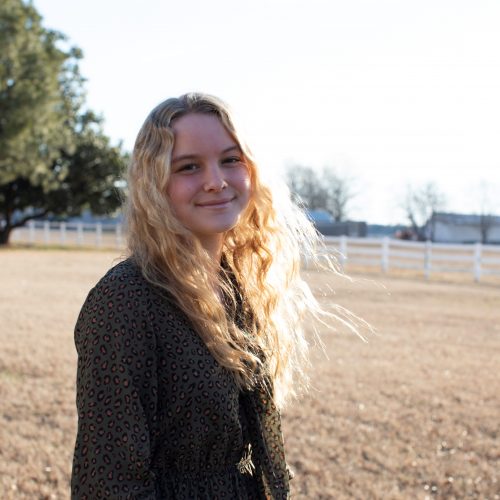 Kathryn Miller is a sophomore at Jamestown High School in Williamsburg, Virginia. Born at Fort Campbell, Kathryn has lived in Tennessee, California, New York, Alaska, Texas, Florida, Hawaii, Pennsylvania, and Virginia. She is an Army brat and has been a student at eight schools. The oldest of four children, her father is on Active Duty and her mother is an Army veteran. Extremely aware that time is limited, Kathryn makes the absolute most of every opportunity.
Kathryn's high school sports include soccer, swimming, track, and cross-country. Kathryn is a member of the Science National Honors Society, Key Club, Forensics Team, Spanish Club, Model UN, and served on the class council. Freshman and sophomore years, Kathryn received first place science fair awards and made the Principal's List. She enjoys working as a lifeguard in the summer and an ice skating rink guard in the winter. Kathryn dedicates her heart wherever the Army takes her and was the U.S. Army Hawaii Youth Volunteer of the Year in 2018.
Kathryn entered the documentary "Women at West Point: Breaking Barriers of the Long Gray Line" — which she co-wrote, directed, and produced — in the National History Day 2020 competition as a freshman at Carlisle High School in Carlisle, Pennsylvania. The documentary tells the story of the first woman to graduate from the United States Military Academy. After placing at the local and regional levels, the documentary won First Place honors in the state of Pennsylvania.
Kathryn hopes to serve in the Army and is interested in attending the United States Military Academy.
Kathryn Miller
Army Family Member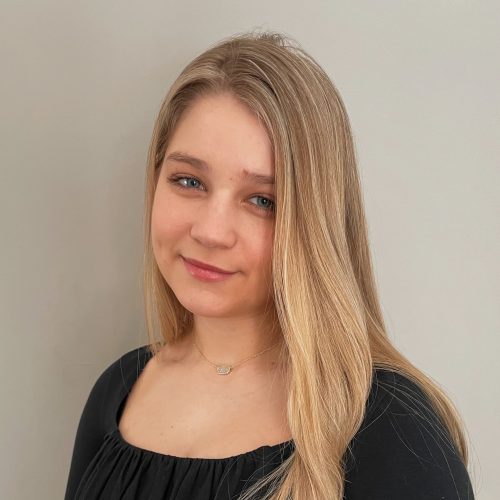 Kailyn Rowland is a junior at Patterson Mill High School. She is also a type 1 diabetic. Being a military child she has moved to a new state 9 times and one of her favorite places she has lived in was New York at West Point. Some of Kailyn's favorite hobbies are hanging out with friends and family, traveling, working out, and doing gymnastics. Kailyn has been in competitive gymnastics for 10 years. Along with gymnastics Kailyn has also been on a high school cheer and track team.
Kailyn would like to attend the University of Washington. With the hopes to help people she is thinking about majoring in psychology or criminal justice. Kailyn was honored to receive first place in the National History Day state-level competition in Carlisle Pennsylvania.
Kailyn Rowland
Army Family Member