A groundbreaking ceremony for "Ashley's House" occurred on Saturday, January 15, in Eustis, Florida. In attendance were members and leaders of various veterans organizations, Board members of the U.S. Army Women's Foundation, President and Central Florida Ambassador to the Women's memorial, local and state officials, and the family of 1LT Ashley White-Stumpf.
"Ashley's House" will be a 4,000 square-foot transitional group home constructed on Grove Street in Eustis, Florida, dedicated to the memory of First Lieutenant Ashley White-Stumpf, 24.  1LT Ashley White was one of the first Combat Support Team members selected and deployed by the U.S. Special Operations Command. On October 22, 2011, an improvised explosive device killed Ashley during combat operations in Kandahar Province, Afghanistan.
"The house will be an all-female veteran transition home offering women veterans a temporary safe haven while also providing job training, counseling, and much needed female camaraderie as they work towards self-sufficiency in a secure and loving environment," says Marie Bogdonoff, founder and CEO of Villagers for Veterans.
Please go to the link below for more information on this and other veterans' projects/activities conducted by the Villagers for Veteran Organization.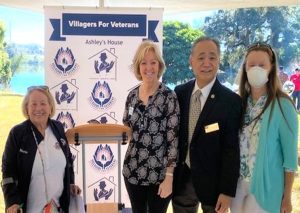 Marie Bogdonoff (CEO and founder of Villagers for Veterans), Phyllis Wilson (President MWM memorial and AWF board member,
Dr. Peter Tan (northern Florida Civilian Aide to SecArmy), and Ruth VanDyke, AWF Board member and Central Florida MWM Ambassador, attend the groundbreaking ceremony.