Dear Army Women,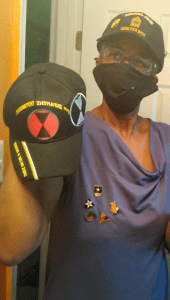 My name is Elizabeth Anne Helm-Frazier, Master Sergeant, U.S. Army, Retired, and a SOLDIER for Life!  After serving for 25 years, 10 months, and 26 days on Active Duty, I continue to SERVE!
On September 30, 2006, I retired from the Army.  It was a great career!  There were many changes in those 25 years and many firsts for Army Women!  I had about 4 years on Active Duty when I met my first African American, female First Sergeant.  I was stationed at Eisenhower Army Medical Center, Fort Gordon, GA, and I remember thinking, "She is who I want to be like."  I went to see her, and she said, "I'm honored that you want to be like me, BUT you can be better than me, and do more than I will ever be able to do." She continued to say, "The Army is changing, and WOMEN will play an important role in that change.  You are the future."  I listened and modeled my career after that First Sergeant.  When she retired, she kept on serving.  That woman was First Sergeant Theola B. Melton, U.S. Army Retired.
The U.S. Army Women's Foundation (AWF) is an organization that does what First Sergeant Melton did. The Foundation provides mentorship, inspiration, leadership, and celebrates the accomplishments of Army Women, past, present, and future.  The AWF encourages all military women to lead and serve from the front.
I attended this year's U.S. Army Women's Foundation 12th Annual Hall of Fame Induction & Scholarship Awards Ceremony on March 11, 2020, and I was honored to be inducted into the AWF Hall of Fame, Class of 2020.
The Hall of Fame recognizes Army Women, past and present, for their extraordinary service to the Army, other branches of service, and communities. Women in the Hall of Fame have made exceptional contributions to the Service, Community, Women Veterans, and Veterans.  This is our Hall of Fame.  Army Women celebrating Army Women!
So, to say thank you to AWF, I would like to issue a challenge…
The COVID-19 Army Women's Challenge  
I challenge all ARMY WOMEN (Active Duty, National Guard, Reserve, and Veterans) to make a donation to The Army Women's Foundation in the amount of the year you separated, retired, or if still serving, pick a year. For example, I retired in 2006, my donation could be any of the following:  $20.06, $200.06, or $2006.00. And to make it FUN, send in your donation with your BEST COVID-19 picture with or without your best ARMY Hat.  Any amount will help AWF to keep moving forward.
I am going to mail a donation of $20.06 to AWF for the next 6 months.  Will you join me? You can mail in your donation or donate online. Let's support AWF, because
WE ARE ARMY WOMEN, STILL SERVING!
 Thank you,                                                                                                                                                                                                                                             
Elizabeth Anne Helm-Frazier                                                                                                                                     
MSG, US Army (Retired)